Who We Are

My Father's House Assisted Living Home is an elderly care facility located in 6951 Shane Place Anchorage, Alaska 99507. Our neighborhood is quiet and surrounded by greenery which adds to the tranquility of our home.
We create a warm home setting for seniors who wish to have a place where they can have as much independence as possible, while at the same time, continue to receive the love and assistance they require every day.
At My Father's House, residents have their choice of activities to add to their schedule or to keep a relaxed way of life. Our employees are trained to adapt to the individual lifestyles and personalities of our residents.
We respect each resident's individuality and dignity. Call us today at 907-227-3364.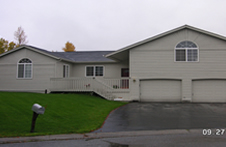 Doddie Belino Davison
Administrator
6951 Shane Place
Anchorage, Alaska 99507
Phone: 907-334-3391
Mobile: 907-227-3364
Fax: 907-334-0904
Email Address:
dbelino@hotmail.com