Why Choose Us

We at My Father's House Assisted Living Home are constantly outdoing ourselves in the care of the elderly. But don't just take our word for it. Listen in to what our clients have to say about our services.
"My Father's House had provided consistently attentive, affectionate and knowledgeable care for my mother in four years she had resided there. The surroundings are comfortable and well-kept, the caretakers cheerful and kind, and cooperate in keeping me informed about her well-being when she was there".
-- Carol R. Dee
"My Father's House Assisted Living Home provides exceptional care, comfort, safety, respect and love to all residents. As a family member, there is no greater gift to a loved one than the kind of care and attention you would give them yourself. My Father's House actually provides much better - not only the love and comfort and support you would offer at home, but the safety necessary for elderly individuals and the exceptional attention of the nursing assistant staff who are always one step ahead of any medical challenges.
The staff was with my Dad each moment and gave him an overwhelming sense of joy, peace and comfort. Despite his being bedridden, he was made to feel a part of the home activities. The nutrition and exercise program helped him live a healthy life in his final years and the love he was given gave him such comfort and peace.
Better than being at home,My Father's House Assisted Living Home is the ideal setting for a loved one's later years. I feel so blessed that Dad was there!"
-- Bonnie Carroll (TAPS Founder - Tragedy Assistance Programs for Survivors)
"My Dad has been a resident of 'My Father's House' for almost 5 years. The staff is warm and friendly and the care is superior to anything I had originally imagined 24/7. The house is always clean, warm, and feels like a home not a 'facility'. They have been instrumental in balancing his nutrition, getting his weight under control and stabilizing his blood sugar which has greatly improved his health. I would definitely recommend 'My Father's House' to anyone. I couldn't be more pleased…"
-- Tim McKee
"My Father's House is a clean, warm, homelike facility. There is a good ratio of Caregivers to Residents. I feel that my mom is receiving very good care…"
-- Mike Miller
My Father's House Assisted Living Home is the most amazing place. I felt so loved there and the help I received was the tops. They really take care of everyone and make the families feel so welcome. -- Ann Peeples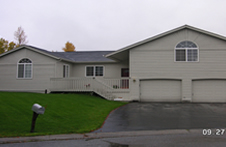 Doddie Belino Davison
Administrator
6951 Shane Place
Anchorage, Alaska 99507
Phone: 907-334-3391
Mobile: 907-227-3364
Fax: 907-334-0904
Email Address:
dbelino@hotmail.com