What We Do

Father's House Assisted Living Home provides an environment for your loved ones to meet individual needs and get the elderly care they require. Our services are focused on assistance with daily living and quality companionship for our residents.
Living at Father's House Assisted Living Home residence makes life easier with the following services:
Three nutritious meals daily
Snacks available throughout the day
Reminders with medication and appointments
Assistance with bathing and hygiene care
Weekly housekeeping and daily trash removal
Weekly personal laundry (except dry cleaning)
Referral to counseling and community resources
Recreational, educational and hobby programs
Utilities (excluding cable and phone)
Wellness visits by RN or APN
State of Alaska license for 5 Residents since 2006
Staffing - 3 Shifts with 2 caregivers every shift.
Our Staffs are 3 CNA and 4 Experienced Caregivers. (Fulltime and Part time Staff)
We invite you to our home. Call us today at 907-227-3364 to inquire about a free tour around the facility.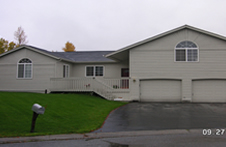 Doddie Belino Davison
Administrator
6951 Shane Place
Anchorage, Alaska 99507
Phone: 907-334-3391
Mobile: 907-227-3364
Fax: 907-334-0904
Email Address:
dbelino@hotmail.com